Following the news earlier this week that Daniil Kvyat and Max Verstappen are to swap seats for the Spanish Grand Prix, let's take a look back at some of Formula One's best mid-season replacements of the last 25 years, along with some of the worst.
Michael Schumacher (Jordan and Benetton, 1991)
He may be the most successful driver in Formula One history, but back in August 1991, Michael Schumacher was a relative unknown, partway through a World Sportscar Championship campaign as a Mercedes factory driver.
At the same time, Jordan driver Bertrand Gachot was busy securing himself a stretch behind bars by spraying CS gas into the face of a London taxi driver, leaving Eddie Jordan with a vacancy to fill ahead of the Belgian Grand Prix.
Schumacher duly got the call, and despite having never driven F1 machinery in anger, turned up at Spa and qualified a remarkable seventh, nearly a second ahead of teammate Andrea de Cesaris, who had been driving the car all season.
A clutch failure prevented Schumacher from taking the start, but he had caught the eye of Benetton, who promptly signed the future seven-time world champion before the next race at Monza.
There followed an impressive fifth place, ahead of triple world champion teammate Nelson Piquet, before a pair of sixth places in the next two races secured Schumacher a full-time contract with the Enstone team.
The rest, as they say, is history…
Mika Hakkinen (McLaren, 1993)
Having started his Grand Prix career with two strong seasons at Lotus, Mika Hakkinen was supposed to race for McLaren from the start of 1993, but a last-minute decision by Ayrton Senna to race for the Woking squad and the signing of CART racer Michael Andretti left the Finn on the sidelines.
Fortunately for Hakkinen, Andretti never settled in Formula One, and with three races of the season remaining, the American was sent back across the pond to resume his career stateside. His departure gave Hakkinen his chance at the Portuguese Grand Prix, where he stunned the world by outqualifying the legendary Senna.
Hakkinen crashed out of the race the following day, but made amends by securing his maiden podium finish at the next round in Japan. The Finn had more than proved his worth at one of the sport's most famous names.
He went onto race for McLaren for the next eight seasons, winning two world championships, 20 Grands Prix and securing 26 pole positions, earning his place among the sport's greats.
Sebastian Vettel (Toro Rosso, 2007)
A highly touted 19-year-old that was running away with the World Series by Renault crown, Sebastian Vettel had already impressed in a one-off cameo appearance for BMW Sauber in 2007, scoring a point for eighth place in Indianapolis in place of the injured Robert Kubica.
A member of the Red Bull Young Driver Programme, a permanent break came before that year's Hungarian Grand Prix, when Scott Speed was ousted from the Toro Rosso outfit, reportedly after a physical altercation with team boss Franz Tost at the Nurburgring.
Vettel grabbed his opportunity with both hands, and was running in an astounding third place in torrential rain in Fuji when he crashed into Mark Webber behind the safety car, eliminating both. Undeterred by heartbreak in Japan, the youngster bounced back at the next race in China and made amends with a fine drive to fourth place.
A full-time contract for 2008 followed, where an exceptional maiden win at Monza more than justified his promotion to the main Red Bull outfit in 2009. After winning four straight championships between 2010 and 2013, a move to Ferrari followed two years later.
Robert Kubica (BMW Sauber, 2006)
Robert Kubica's debut at the 2006 Hungarian Grand Prix was initially billed as a one-off in place of the injured Jacques Villeneuve, but a strong drive to seventh place – a result that was later taken away from him due to a technical infringement – gave the Pole a seat for the remainder of the season.
A low-key 12th place finish in Turkey came next, before Kubica announced as a star of the future by scoring his maiden podium finish at Monza, in just his third Grand Prix.
No more points were to follow in 2006, but Kubica had done enough to earn a full season with the Hinwil squad the following year, where he would remain until BMW's withdrawal from F1 in 2009, having won one Grand Prix and grabbed a best championship placing of fourth in 2008.
A move to Renault in 2010 followed, with three podium finishes in an underpowered car promising much for the future, but Kubica's career was tragically cut short after a severe rally accident shortly before the 2011 season left him with serious injuries.
Mika Salo (BAR and Ferrari, 1999)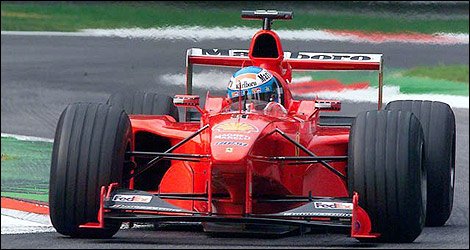 Mika Salo had spent the latter part of the 1990s forging a reputation as a solid midfield runner, having enjoyed spells with Lotus, Tyrrell and Arrows. Without a permanent drive for 1999, Salo first found temporary solace at BAR when he replaced the injured Ricardo Zonta for three races. A seventh place finish at Imola proved to be the team's best result in a wretched debut year.
Salo's most notable opportunity that year came when he was drafted in to replace Michael Schumacher at Ferrari after the German suffered a broken leg in a crash at the British Grand Prix. Despite having never driven the car, Salo worked himself into the lead of his second race for the Scuderia at Hockenheim, and only missed out on the win when he was forced to concede to Eddie Irvine, who was fighting for the championship.
The rest of Salo's six-race spell was less fruitful, but the Finn enjoyed a second podium finish when he took third place in front of the tifosi at Monza. Salo's efforts at Maranello helped to earn him a full-time drive at Sauber in 2000.
And three that didn't fare so well…
Luca Badoer (Ferrari, 2009)
In his defence, the odds could not have been stacked further against Luca Badoer when he was called upon to replace the injured Felipe Massa at Ferrari in 2009.
Badoer had several seasons of F1 experience with the unfancied Scuderia Italia, Forti and Minardi teams, but his most recent Grand Prix had been in 1999 and the Italian had not raced in any meaningful championship in the intervening ten years. Added to that, the Ferrari tester was tasked with racing a car he had never driven, and which, fitted with the hybrid KERS system, was notoriously difficult to drive.
He was given the drive as a "thank you" for his service to the Scuderia after Massa's intended replacement Michael Schumacher was declared unfit to race due to a neck injury, but Badoer did little to repay his long-time employers on the track. He qualified last in Valencia – having been fined four times for speeding in the pit lane in practice – and his most notable moment during the race came when he forgot to disengage his pit lane speed limiter after a stop and was overtaken by Romain Grosjean.
Badoer was given a second chance at Spa, but after he again qualified and finished the race last, this time almost a lap behind teammate and race winner Kimi Raikkonen, he was replaced by Giancarlo Fisichella, the man who had taken pole and finished second that day. To put Badoer's struggles into context, Fisichella also failed to score a point in his five races.
Romain Grosjean (Renault, 2009)
At 23, Romain Grosjean was embroiled in a fight with Nico Hulkenberg and Vitaly Petrov for the GP2 title when he was given his F1 break with Renault in 2009, in place of the sacked Nelson Piquet Jr.
The Frenchman made his debut in Valencia, the same race where Badoer began his temporary spell with Ferrari (above) but in his seven races, he struggled to match teammate Fernando Alonso and ended an unimpressive debut season without a point.
It was during this period that Piquet Jr, incensed by his firing, revealed all about his role in the Crashgate scandal at the 2008 Singapore Grand Prix and left the Enstone outfit in tatters.
Renault sold the team at the end of 2009, and Grosjean found himself out of Formula One. Knocked back, he went on to rebuild his career in the junior categories over the next two seasons, culminating in him finally winning the GP2 title in 2011.
He earned a second chance at Enstone – now rebadged at Lotus – in 2012, where after a topsy-turvy campaign that saw a succession of first lap crashes and a one-race suspension, Grosjean is now regarded as one of the sport's most consistent drivers.
Jacques Villeneuve (Renault, 2004)
Jacques Villeneuve was riding the crest of the wave at the end of 1997, having clinched the world championship with Williams following a now-infamous showdown with Michael Schumacher.
That day at Jerez was as good as it was ever going to get for the French-Canadian, who after a winless 1998 with Williams, moved to the all-new BAR team the following year. Five years, and just two podium finishes later, Villeneuve walked out on the Brackley squad shortly before the end of 2003 and took a sabbatical from Formula One.
Villeneuve was given the chance to drive the last three races of 2004 with Renault after Jarno Trulli was sacked following a fall out with team principal Flavio Briatore, but finished outside the points on each occasion. In comparison, Fernando Alonso scored 14 points in the same car, and Villeneuve's failure to perform had helped the team lose second place in the constructors' championship, ironically to BAR.
Villeneuve would join Sauber in 2005 and remained with the team when it was bought out by BMW the following year. He was released partway through the season when Robert Kubica impressed in his absence at Hungary (above), ending his Grand Prix career.
Stephen D'Albiac